Free Digital TV in the UK
Our podcast regularly features Digital TV, and a common subject is how to get subscription-free telly. Here's some help...
Free Digital TV?
On this site, and on our podcasts, digital TV is our top topic. If you want to watch telly, you have two options:
On this page, we're going to look at what's available for free...
Listen to Show 27, covering Free Satellite TV:




You can listen online with our pop-up Pod Player, save as MP3 or subscribe via iTunes.
Freeview vs Satellite TV
Freeview is the name of the service that lets you get subscription-free TV channels via a TV aerial.
Services like Freesat and Sky Digital are transmitted from orbiting satellites. You need a dish pointing in the right direction, and a satellite decoder to get these signals
Here's the basics:
Satellite TV covers 98% of the population )


Satellite TV comes from a bunch of satellites positioned at 28.2 degrees above the Equator - Point a satellite dish roughly South-East.


Freeview is received via a TV aerial, not a satellite dish.


Freeview offers 60 TV and radio channels - compared with over 200 channels on satellite.


Some Digital TV sets have built-in Freeview receivers - otherwise, you'll need a set-top box that can be connected to a spare SCART socket on your telly


Freeview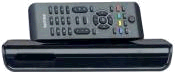 Channels: Approx 70 channels of digital TV and radio, including BBC3, ITV3, ITV4, E4, Sky 3, BBC News, Dave, Quest, Film4, Yesterday and More4.
Getting Freeview: You need a Freeview receiver. Some TVs have one of these built-in, otherwise you need to buy a set-top box (from around £20).
No subscription required.
More on our Freeview page
Free Satellite TV Options
With satellite TV, there are three types of channels:
Free-to-air (FTA) - No viewing card is required. Over FTA 200 channels available - including all of the BBC and ITV channels, Film 4, Sky News, CNN, Movies 4 Men, Golf TV and about 100 radio stations. FTA channels are available with Freesat, Sky Digital or a DIY dish - Each option is explored below. There's a list of FTA channels on Sky's site.


Free-to-view (FTV) - As of August 2008, the only FTV channels are: Channel 4, Channel 5, Fiver and Five USA . A Sky viewing card is required, but no subscription is required. If you have a Sky box and dish already, you can get a Freesat from Sky card for £20 by calling 08442 410 595. Otherwise, available with "Pay Once, Watch Forever"


Subscription channels - Including Sky 1, GOLD, Comedy Central, SyFy (the Sci-Fi channel), Alibi, Watch, Sky Movies and Sky Sports. A Sky subscription is required


We cover the various options below...
FreeSat from the BBC and ITV
Launched in May 2008
Channels: 160 TV and radio channels, including all of the BBC, ITV and Channel 4 channels. Other channels include Film 4, True Movies, Movies4Men, Euronews, Wedding TV, Chart Show TV, and a bunch of radio stations. Freesat Channel List
High Definition: Some boxes support High-Definition. BBC One HD, BBC Two HD, ITV1 HD and Channel 4 HD are currently available without subscription.
No subscription required
Boxes: Priced £50 (standard definition), or £120 (high definition)
More on our Freesat page
Sky's FreeSat - "Pay Once, Watch Forever":
This allows you to watch free-to-view TV via a Sky satellite dish and digibox.
Channels: Over 200 free-to-view channels vs Freesat's 100 channels
Cost: £75 for box and installation, compared to Freesat's £130 box and installation.
A four month free trial of a bunch of Sky pay-channels such as Sky One and GOLD
Box has a card slot, in case you decide to subscribe to Sky in the future.
You have to remember to contact Sky after three months if you don't want to enter a contract for their subscription channels
Box doesn't support high-definition
More details: "Pay Once, Watch Forever"

Old Sky boxes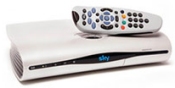 If you have an old Sky box and a suitable satellite dish pointing at Sky's satellite, you'll be able to get access to all of the 200 or so free-to-view channels and the radio stations. You don't need a subscription or a subscription card. Some things to note:
You won't get the Free-to-view channels (Channel 4, Channel 5, Fiver and Five USA) unless you have a card. See above
If it's a Sky+ box, you won't be able to use the recording facility. The Sky+ service is free to Sky subscribers - if you're not a subscriber, you'll have to pay Sky £10 a month to use Sky+
Sky's Pay TV service
Not a free TV service, but we've added Sky Digital's standard subscription service here for comparison:
Widest choice in UK
Installation and Set-up is often free
Minimum £21.50 a month from www.sky.com/skycom
High Definition: Over 50 HD channels (requires a monthly subscription). Sky+HD box needed.
More details: Our Sky Digital page
Getting a satellite dish
If you sign up to Sky Digital or Sky's "Pay Once, Watch Forever", Sky will do the installation for you.
If you go with Freesat, you can arrange installation with the retailer, or contact a local satellite TV installer
There's also the option to buy your own dish and satellite receiver, and do it yourself:
Get a kit with receiver and dish from £70: Sat Kit at Maplin or HD Kit at Maplin
You'll have to install your own dish and run your own cables
Receive over 200 Free-to-air channels
More on Free UK TV
Want to know a little more? Have a listen to Show 27 of our audio podcast
Got a question on digital TV that we can answer in our next podcast?
Call 020 8133 4567 or send us a message