Gadget Show Live 2012 Roundup
FrequencyCast travelled to Birmingham for this year's Gadget Show Live at the NEC. Here's the first part of our transcript, taken from FrequencyCast Show 75
Listen to Show 75, our round-up of Gadget Show Live 2012 (30 mins)
Gadget Show Live Transcript (Part 1):
Here's the first half of our transcript from Show 75, our summary of this year's GSL:
Pete:
The first part of today's Focus takes a look at last month's Gadget Show Live, up at the NEC in Birmingham. Now we released a special show straight after the press day, to help those of you planning a trip to the show. Thanks to all those of you who got in touch to say it was useful. Here's a short extract of that show, summing up our first day.
Carl:
Well, we have seen quite a diverse selection of things this time - that's what we've been aiming for, a bit of diversity. We've seen the X-Pro spirit level.
Pete:
Really? - is that the best gadget we could find at the gadget show, was a spirit level?
Carl:
No, it was the most diverse gadget I could find at the gadget show.
Pete:
My favourite, I think, has to go to the Bubblepix 360. It clips onto your iPhone 4 on a special case, and gives you 360 panoramic video and stills. They were pretty awesome, weren't they?
Carl:
These are the pictures of the future. And then, of course, we went to Parrot, and they, well what was that thing? That was just something out of the future, wasn't it?
Pete:
The product that Carl's referring to there is a pretty awesome piece of flying tech, and Asif from Parrot explains just what was being shown off.
Asif:
So we have a number of our products here. We have our car kits, our home speakers, and digital photo frames, and we also have here right next to us, the AR Drone 2.0, which we're premiering here in the UK today.
Carl:
The AR Drone? - and it looks phenomenal, it is a sci-fi movie in front of me. I just want to make a film right now. This is going to be brilliant. Tell me, one, two, three, four fans, and a sci-fi space shuttle look about it - what does it do?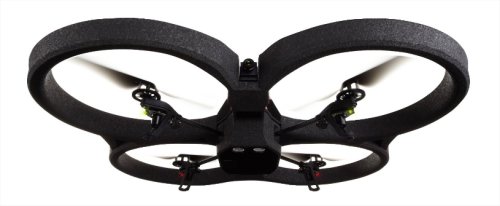 Asif:
Yeah, so we call it a quadrocopter, and it's flown via a smartphone or an iPad.
Carl:
I love the name - and again?
Asif:
A quadrocopter.
Carl:
Of course it is, silly me! And it's controlled by your what?
Asif:
By your smartphone or an iPad, so it connects via WiFi, and all you do to fly it, it's very simple - as you lean your phone around, it mimics your movements, so if you lean your phone forwards, it flies forwards, and back, for example.
Carl:
Phenomenal! So I'm a pilot, just with my iPhone - that is fantastic! Have you got anyone that can fly one here?
Asif:
Absolutely - my colleague Stuart here will give you a quick demo.
Carl:
Alright then, I shall go over to the pilot, Stuart. Have you got your safety helmet on, ready to go? - OK, tell me, what are you going to do first?
Stuart:
OK, I've got on the screen of my iPhone, I've got a take-off button and two pressure pads, so as soon as I hit the take-off button, my drone flies up to about a metre high, and stabilises itself. When I tilt the iPhone forward, it goes forward, backwards, left and right, and then the other pad on the other side increases the height and the yaw, left and right, and then also I can do a trick: by a double-press of the pad, it does a somersault.
Carl:
That's phenomenal. Let me just talk the listeners through what I'm looking at here - not only is this thing hovering at a steady height, you say it's self-correcting, is it?
Stuart:
Yeah, as soon as I let go of the controls, it self-corrects itself. It has ultrasound sensors and pressure sensors, so it's got its own little onboard computer that monitors what's happening in the environment, and it stabilises itself.
Carl:
This is brilliant. It's got some little red LEDs, one on each fan - that's obviously to tell people to keep away from the fast-moving equipment.
Stuart:
Yeah, we've got two green LEDs at the front, and two red at the back, so we know which direction we're flying in.
Carl:
Oh, fantastic! Has it got indicators as well?
Stuart:
I wish it had!
Carl:
And hazards. So what happens on the screen? I'm looking at your iPhone screen, you've got an emergency button - is that the ejector seat?
Stuart:
Yeah, that is. As soon as I hit that, it just automatically lands.
Carl:
Oh brilliant - and all under its own steam, so you don't need to control its landing, it'll be a perfect landing and it won't damage the equipment obviously, or the onboard computer?
Stuart:
Yeah, I have a landing button, a landing and a take-off button. The emergency is just, if I got into any trouble and I wanted to kill the power, I'd just kill the power and it lands safely.
Carl:
Brilliant. Now, there is something else on this - what's that image? That looks like the Gadget Show - that hasn't got a camera on it, has it?
Stuart:
Yes, it's got two cameras, a 720P, so a HD on the camera, so we can see our flight, what we're doing, on the screen of the iPhone. We've also got augmented reality games, so we can race against our friends, and also we can have shoot-'em-ups, all done on the screen, so you can fire at your friends; you can record your flight; you can take pictures while you're flying - it's great.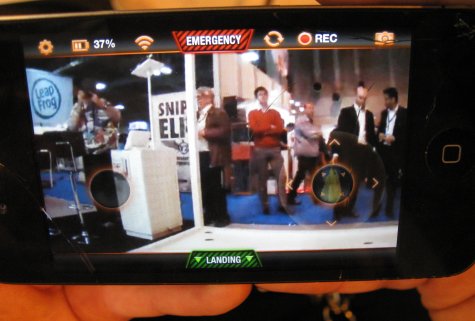 Piloting the AR Drone 2.0 from an iPhone - with live video
Carl:
This is fantastic, this is so cool. Tell me something - how well does it operate outside, or is it more of an indoor gadget?
Stuart:
No, it's indoor or outdoor. It comes with an indoor hull, which is what you're seeing now, with protective circles round the propellers, so if you do hit anything it bounces off; and then the outdoor hull is smaller, without the protection round, and also it's lighter. So you just change the setting within the application, and you can go outdoors and fly to the range of your WiFi, which is about 50 metres.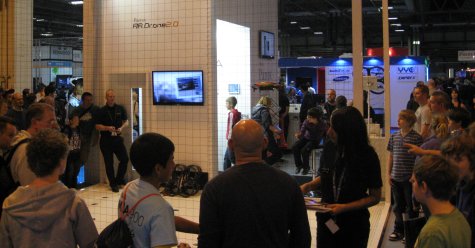 Crowds at Gadget Show Live admiring the impressive Parrot AR Drone 2.0
Carl:
And also, what I like about this, it's super-efficient - it doubles up in the summer as a giant fan, doesn't it? And you could just hover that above your head, and watch TV, couldn't you?
Stuart:
You could indeed, yeah.
Carl:
I want to know two things: one, where can I get one from?
Stuart:
Parrot ourselves, we have distributors that sell the AR Drone 2.0. There are lots of distributors out there that sell the product, and they're retailing for £299, and they're going to be released, the AR Drone 2.0, released in June in the UK.
The Parrot AR Drone 2.0 is available from Amazon
Carl:
Thank you very much - that's really good. Thank you very much for your time, Stuart. Hold on a minute - have you got something to say?
Pete:
I have a question - a range of 50 metres, can I hover over my rather cute neighbour's garden, and take a picture?
Stuart:
It's possible, yeah, if that's what floats your boat, you can do that.
Carl:
Obviously not tried and tested by the ... this one's a proper military pilot. He doesn't do that mucking around. Thank you very much for your time.
Pete:
That's the Parrot AR Drone 2.0. Next, we're going to tell you about what was probably the best piece of cutting-edge energy-saving tech that we found. Carl, please describe this product?
Carl:
Well, it looks like a light sensor. It's like a motion-sensor thing on an egg-shaped stand, and it looks like it has a battery cover on the back, and an on-off switch on the top. If you lift it up, on the underside it's got - is that a timer? It's like an egg-timer? Is this the new egg-timer of the future?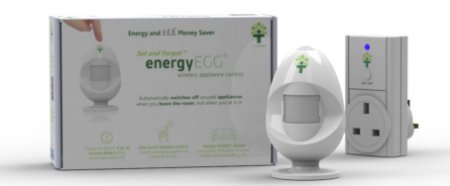 Pete:
Not quite. Now, I'm in the fortunate position that I've actually been playing with one of these for about a month now, and they are very very good. The purpose of them, of course, is energy efficiency, and with fuel bills on the rise, we all need to do what we can to save on our electricity. So go on then, John - tell me what this little beastie does?
John:
Well, what this little beastie does essentially is, it turns things off automatically for you. So it was invented by this guy, Brian, who has three young daughters, and he was forever telling them to turn off things after they'd finished using them, and they never did it, and he got tired of telling them to do it, so he thought, why don't I just get something that will do it automatically? And so he did what any of us would have done, and invented something, and the rest is history. So it's essentially a motion sensor that can tell when you're out of the room. The egg-timer, that you pointed out there, can be set to between five minutes and half-an-hour, and when it detects the room is empty, and that timer runs down, it will turn off anything connected to it.
Pete:
Now, that is rather clever. There's one of those by my desk in my office at the moment, and I've set it to five minutes. When I wander out of the office, what it does for me, and I don't know if anybody else has the same, mine powers off my printer, powers off my monitor, and powers off my powered speakers. When I walk back in the room, it frightens the life out of me by beeping, and turning them back on, and of course, while I'm out of the room, I don't have to remember to switch these things off. I'm assuming that is pretty much the basics of it, is it's to kill equipment that you're not using when you're not there?
John:
A lot of energy gets wasted, not through inefficiency of appliances, but just by behaviour. You go and make a cup of tea and get talking to someone, and then you end up out of the room for half-an-hour, and you've missed your whole TV show, but the TV's been on the whole time. The energyEGG will stop that happening.
Pete:
And also some safety aspects - somebody was suggesting irons and hair straighteners that people that tend to leave on, and could burn the place down - this will automatically disable those when you go away, is that right?
John:
We've actually had people today talking about both of those things. No, that's exactly right, yes - safety, of course; you don't want to leave your iron on. And also, even if you haven't left it on, it will give you peace of mind, because we've all had that moment where, say, you're going on holiday, and then you think - did I leave this on, did I leave that on? Did I leave my iron or hair straighteners on? And even if you didn't leave them on, if you've got one of these, you'll know that it will catch it, if you left it by accident, so you'll know either way, it will be switched off.
Pete:
Now, I'm a busy person. When I'm at my desk, I'm normally bashing away on the keyboard, and writing tech reviews and all sorts of other things. I have been known to sit very still while I'm at my machine. Will this turn everything off around me, or do I need to kind of wave my arm every few minutes?
John:
It will not turn anything off, if you're in the room - that's the clever thing about it.
Pete:
Don't I have to jump up and down and wave my arms?
John:
You don't have to jump up and down and wave your arms, no. It's got a smart motion sensor with software inside it to match it, called a sit still sensor, and that's unique technology. What this does is, it can tell the difference between an empty room, and one where you're sitting still. So if you're watching your favourite movie, and you're thoroughly engrossed in it, and you're gripped and you're sitting motionless, you do not want the TV to turn itself off right at the climatic, final scene. It won't happen with this energyEGG - it can tell when you're in the room, or when you're not.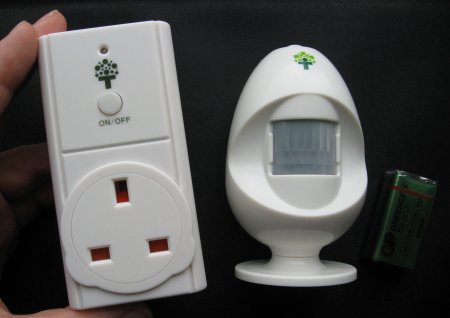 Pete:
Am I also right that you can chain these, so you have one sensor, and it can switch off multiple sockets?
John:
Our manufacturers have told us that it can switch off unlimited sockets. We've tested it up to twelve, so we say twelve, and we can't, in all honesty, envision anyone needing more than twelve for their home.
Pete:
Now, given energy prices are on the rise, obviously there is a point where it's cost-effective to get one of these, or not to get one of these, what is the retail price for this product, and how quickly would one pay for itself, do you think?
John:
The retail price for this product, for one EGG and for one socket, is £40. There's also a family pack, which is one EGG and three sockets - that is £50. Because sockets in John Lewis sell at £8 apiece, there is obviously a saving in getting the family pack. Now, it should pay for itself fairly quickly, but as it is behavioural-based, that very much depends on the individual user profile. But what we have on our website, www.treegreen.net, is we have an energy-saving calculator, which is exactly what it sounds - you on, there's a list of appliances. You put how many hours a day you think you leave them on, and then it will tell you how much you stand to save with an energy egg. So most people will find that this will pay for itself from six months to a year, but by using the energy-saving calculator, you can make sure it's the right product for you.
Pete:
Superb, and this has just hit the market. You can get them from your website - give me that blatant plug again, for the web address?
John:
Pete:
Now, we also found these available online at Tescos, and somewhere else you can get them?
John:
John Lewis - we've just launched in John Lewis, online and in store, so we're very excited about that.
Pete:
Superb, excellent - well, I'm in love with my energyEGG already. I'm going to stop waving my arms now, because I was under the mistaken belief I need to keep moving about in the office. No good giving one to Carl for his office, because he constantly sleeps.
Carl:
No, I'm constantly comatose.
Pete:
No, that's the one - thank you very much. So obviously, the energyEGG has some serious potential for energy saving. Do you guys have anything in the market that's going to improve on this, or expand the line at all?
John:
Everything's still at a conceptual stage, but we do have a couple of ideas of where we want to go with this. Something people keep bringing up with us is, does it do lights? - because at the moment, it just does the plug socket, and we are making light fixtures that will work exactly the same as a socket, so you will be able to turn off your lights with the energyEGG, which is a big step forward, I think. In the long run, though, in the long, long run, what we want is your whole kind of home control system that will completely optimise your entire energy performance. You'll have your centralised HAL 9000 console, or whatever you want to call it, or more likely just your phone, actually. We'll set up like a network of energyEGGs and similar devices throughout your entire home, that will cut down on your energy use substantially, and streamline every aspect of your domestic life. That's the end game - that's what we're working towards.
Pete:
The future is bright - eggsellent!
Carl:
Quite an exotic piece of equipment.
John:
Thanks a lot, and I'm glad you made it right the way to the end of the interview without cracking any yolks.
Pete:
Ah, the old ones are the best, eh?
Continues here: Gadget Show Live 2012 Transcript Part 2
Related Pages: