Watching Subscription-free Telly
In Show 44 of the FrequencyCast Tech podcast, we looked at how to watch TV without paying a subscription to Sky or Virgin.
Here's a full transcript of our summary of the Freeview, Freesat, Freesat from Sky and BT Vision options.
Listen to FrequencyCast Show 44 - Free TV Explored
Transcript of Show 44's money-saving feature on UK free TV:
Carl:
OK, it's Focus time, or more accurately, financial focus time. Yes, we're going to focus on something that's of financial gain to all you guys out there.
Pete:
Yeah, we're going to help you save a little bit of cash.
Carl:
OK, and how are we going to do that?
Pete:
Digital TV costs a heck of a lot of money. There was a report out last month saying that people would rather keep their TV service than go on holiday next year, because of the financial situation, so TV is very important to people, but people are paying a heck of a lot of money for their service. If you're with someone like Sky, let's say you've got all of the six mixed channels, movies channel, sports channel and HD, you're running up to about £50/£60/£70 a month for Sky.
Carl:
That's quite pricey, considering your television licence is only about £120, isn't it?
Pete:
Something like that, about £140 I think, but yeah, absolutely. So people are getting on for paying something up to £800 - £900 a year for the privilege of having Sky.
Carl:
Oh, that's a bit hefty. Come on then, cheapen it up for me.
Pete:
So what we're going to focus on in this Focus is subscription-free TV services. Now, we actually touched on this about a year and a half ago when Freesat launched, but it's just sensible to go through all of the various options now. We know there's a lot of people out there that are looking to cut back at the moment, people asking us questions about the ways to save on their subscription the number one topic at the moment, that and ESPN are the things that are filling up our forums and our email inboxes, so it is sensible to go through the options, and there's a few. Let's do a little bit of testing here - who would be the big one, the big free service?
Carl:

Freeview?
Pete:
Yeah, well done - the clue's in the name, isn't it?
Carl:
Well, it was a little bit of a giveaway, oh yeah - it's sky's the limit.
Pete:
OK, so Freeview - this is the cheapest way to get digital TV, one-off fee, set top box, it plugs into your TV aerial - you knew that, yeah?
Carl:
Of course, well I mean, I used to ... well I did, well - no.
Pete:
So with Freeview, you get 40 channels, that includes things like Dave, Virgin1, BBC3, BBC4, E4, ITV2, ITV3, ITV4 (while they're not charging for a subscription, that is), BBC News, Fiver, More4 and so on, so 40 odd channels, free to view TV, which is pretty good. We think it's worth it just for things like Dave and Virgin1, especially if you're a Trekkie fan
Carl:
Obviously.
Pete:
So it works through a TV aerial, to get it, everyone knows about Freeview, don't they? - we don't need to talk about this too much, but you get yourself a Freeview box, it plugs into the SCART socket on your telly, plugs into your TV aerial, and there you go. You get these boxes for £20, available from places like Comet, Dixons, Currys, Argos and so on. It's worth mentioning, Freeview, by the end of this year, will be starting to offer some HD channels, there could be up to five HD channels, ultimately by 2012, but if you're thinking about buying a Freeview box, you may just want to hold on for another couple of months, and consider getting yourself a Freeview HD box. They'll probably be around about £100.
Carl:
Not bad though, for HD.
Pete:
OK, so who have we got next then?
Carl:
Well, on the free tangent, or the connection there - Freesat, I guess, would be the next one I'd go for.
Pete:
Hmm, yes, you think - I'm actually going to hold off on Freesat for a second, I'll tell you why in a moment.
Carl:
Oh, you tease me, you really do!
Pete:

I am teasing you. I want to mention BT Vision, first of all. Now, this is isn't completely free, but it is. Basically, if you get yourself BT Broadband, you can actually get the BT Vision service very cheaply. OK, so you have to subscribe to BT Broadband, but if you're going to get your broadband anyway, this is a relatively decent option. Now, BT Vision offer two ways of getting their service: you can either take out a subscription, but because we're talking subscription-free, we're not going to go down that road, so we're going to talk about the alternative option.
Carl:
Nick it?
Pete:
Nick it - no, not quite. So you get yourself a BT Broadband account, then you sign up to BT Vision, but you don't go for the subscription option, you go for the pay-to-view option. That means, instead of getting the free box, you do have to pay £90 to get the box, but that's a one-off cost to get yourself up and running.
Carl:
Right, and then of course, you only pay for what you watch, so by default, a better idea.
Pete:
So what you will get is a Freeview recorder, it's a hard disk recorder, so you can record all your shows and do series link, that sort of thing, and it'll record all of the Freeview channels for you. If you want, you could optionally get ESPN, which is a subscription service, so we're not going to talk about it, but you can, but more importantly, if you want to rent a movie, or you want to rent an old TV show, something like that, you don't have to subscribe to that service to get it, you can just pay as you go, so 79p will get you a TV show, £1.79 will get you a movie, they're sort of the low end prices, you'd pay more for the higher quality, but that is a way of getting extra content over and above Freeview without paying a subscription.
Carl:
It doesn't sound that bad, really.
Pete:
It's a pretty good service, and it is growing in popularity, the numbers are showing that a lot of people are very interested in Vision.
Carl:
So are we going back to Freesat now?
Pete:

We are going back to Freesat, the reason I wanted to park Freesat was because there are actually three different ways of getting free-to-view satellite TV. Freesat is the first one we're going to talk about. Now, we have to be very careful with the names here - Freesat is actually a joint venture between the BBC and ITV. Now they are offering over 105 channels, that includes BBC3, E4, ITV2, 3, 4, the BBC channels, BBC News, CNN, Zone Reality, True Movies, Film4 and More4 - 105 channels, obviously better than the Freeview line up; however there are some channels that aren't on Freesat but are on Freeview, which makes it a bit more complicated.
Carl:
So that's the fine print you've got to look through, then just make sure you're buying what you want?
Pete:
Absolutely right, yeah - there's a few that you won't find, things like Sky3 you won't find on Freesat, but you will find on Freeview, so you have to be a little bit careful. The way it works is, you basically have to get yourself a satellite dish, and then you have to get yourself a special Freesat set top box decoder. Installation is £80, and the boxes start from £50. You can get yourself a high definition box from about £150, and you can get the BBC and ITV HD services on Freesat, which is quite good.
Carl:
Fantastic.
Pete:
Then we have another service, which unfortunately is also called Freesat.
Carl:
I think I'm experiencing déjà vu.
Pete:
Dave ja vu?
Carl:
Who's Dave?
Pete:
It's a TV channel, my friend. Anyway, before Freesat, which is the BBC and ITV service, launched, Sky were offering something called Freesat from Sky, so there is another Freesat service out there, and for a while Sky branded it to "Pay Once, Watch Forever", which really caused all manner of confusion. Pay Once, Watch Forever now isn't available as a new product, but we do still have Freesat from Sky. Now they offer over 220 channels, which is double what Freesat from the BBC and ITV offer.
Carl:
Wow!
Pete:
However, they don't offer channels like Dave and Virgin1, which is a little bit of a shame. So what they offer is things like BBC3, BBC4, E4, ITV2, 3, 4, BBC New, Sky News, Film4, Film24, Euronews, which is an interesting one, Zone Reality and Sky3, so you do really have to be careful on the package that you sign up for. So the way Sky Freesat works is it's a one-off payment of £147, which is actually round about the same price as Freesat, a tiny bit more expensive, but then of course you are getting slightly more channels; it's a one-off fee, as I say, £147, including installation and the set top box, and what they will actually give you as well is a few free months of some of Sky's pay channels.
Carl:
"Scum of Sky's scay channels"? - can you say that in English?
Pete:
Some of Sky's pay channels as well on a sort of free trial basis, that'll get you things like Sky1, GOLD and things like the SyFy channel, so they're trying to tempt you to enjoy the pay channels, and then after your trial's run out, take those away and ask you to re-subscribe. The good thing about getting Freesat from Sky though is, if you ever decide you want to go for Sky, all you need to do is phone them up, and sign up, so you've got all the kit you need.
Carl:
So that's nice and quick, quick and easy.
Pete:
The other one worthy of a mention is basically just going and buying yourself any old satellite receiver, pointing it in the right direction and seeing what you get.
Carl:
Message from Mars?
Pete:
Yeah, if you miss, yeah absolutely. So Sky and Freesat both get their service from some satellites orbiting over us at, and I'm going to get techie here, 28.2 degrees east on the horizon from the Astra satellites, and a few others, but mainly from the Astra satellites.
Carl:
You're just trying to wind me up now, aren't you? You're sitting there, looking all smug, waiting for me to go, "Yeah, that's really boring", but I'm not going to, because I find it fascinating now.
Pete:
Excellent. So when we talked about the programmes available to Sky Freesat, they're actually available anyway, they're just up there - those services are available, they're what's called "free to view", so you don't need a subscription card, you don't need anything complicated or anything like that, they're actually up there and available for you just to get for free. All you need to do is go and buy yourself a standard Astra satellite receiver, point it at 28.2 degrees east on the horizon, which if you're in the UK is kind of roughly south-east.
Carl:
What - slightly over there, only a bit higher, yeah?
Pete:
Yeah, just to the left a bit, and just down, absolutely. So you will get a lot of these channels, you'll get over 200 free, no subscription, you can do this yourself, you don't need to get Freesat to come out, you don't need to get Sky to come out, and you can actually get yourself a DIY kit from Maplins for about £70 - £80, which is the dish and the decoder, point it in the right direction, fit it yourself, and you're done.
Carl:
And a protractor, of course!
Pete:
But you do have to be fairly accurate in getting it lined up correctly.
Carl:
So don't use the one from school, yeah?
Pete:
Exactly.
Carl:
The one you used to flick everyone else in the class with and take bits off the corners.
Pete:
But if you're into your DIY, doing a satellite installation yourself isn't too difficult. You get a dish, point it in the right direction, screw it to the wall, then you have to run the coaxial cable from the dish through the wall in the house into the set top box, wire it up, screw it into the little socket, and you're ready to go.
Carl:
And I've heard our new secretary's a bit of a dish, so I could probably use her, if I hold her at 180 degrees due east.
Pete:
Does she get 200 channels?
Carl:
I don't know, I've not tried tweaking her.
Pete:
Careful, careful - it's a family show, remember?
Carl:
I'm being very family orientated, I'm trying to get children's TV.
Pete:
Good lad! The only thing I would mention with these free-to-view satellites is there are a couple of services that you can't actually get completely free using free-to-view. The big one is ITV, now because ITV have different regions across the UK, they only work if you have a subscription card, so the fact that you've got a free box without any kind of subscription card at all means the ITV service won't work unless you do get yourself a card. The good news is you can actually buy a card for £20, plug it into your free satellite receiver, and you will be able to get ITV.
Carl:
Cool. Links to all this information, and are you give us listings, so that you can see columns of channels available on each one, so people can just tick off the ones they like, and make it easier for them? Actually, you can put them in the same order, just so you can see where the added ones come on, not that I don't think you have anything to do, but just in case someone else in the office is bored.
Pete:
Yes - web guy? Web guy? Web guy?
| | | | | |
| --- | --- | --- | --- | --- |
| | Freeview | BT Vision | FreeSat (BBC/ITV) | Sky FreeSat from Sky |
| Channels | 40 (list) | 40 (list) + On Demand | 105 (list) | 220 (list) |
| Dave | Yes | Yes | No | No |
| BBC 3, BBC 4 | Yes | Yes | Yes | Yes |
| ITV 2, 3, 4 | Yes | Yes | Yes | Yes |
| E4, More 4 | Yes | Yes | Yes | Yes |
| Zone Thriller | No | No | Yes | Yes |
| True Movies | No | No | Yes | Yes |
| Movies 4 Men | No | No | Yes | Yes |
| BBC Two HD | Yes | No | Yes | No |
| ITV 1 HD | Yes | No | Yes | No |
| How does it work? | Via TV aerial | Via TV Aerial and Broadband | Via Satellite Dish | Via Satellite Dish |
| Cost? | One-off box cost of £20 | One-off box cost of £20. Extra content from 79p a show | One off box costs £50. Dish installation £80 | One-off payment of £147 (box and installation) |
| How to get it | Buy a box from Currys or Argos | Order online from get.btvision.bt.com | Buy box and installation pack Currys or Argos | Call 08442 410 595. Freesat from Sky |
Pete:
Anyway, there is one final thing I want to just pass on, on the subject of doing it yourself, this question is yet another question that comes up over and over again on the forums and over the email, which is, if you get yourself one of these satellite receivers, and you get one of these with a built in hard disk, which is called?
Carl:
PVR, of course.
Pete:
Mmm, thank you very much, PVR. So if you go out, and you decide that you don't want to buy Sky Plus, or Sky HD, but you do want one of these boxes that will record onto a hard disk recorder for you, typically you'll go out and get one of these. Now, we're great fans of a Humax model, the Humax Foxsat, which is a Freesat receiver that has two tuners in, lets you record one programme while watching another. The important thing about the way some of these boxes work, same is true for Sky Plus, is because they've got two tuners, which means you can watch one show while recording another, you actually have two feeds coming out of your satellite dish into your set top box. Now normally, if you have a satellite dish, there's a little blob, you know you've got the curve of the dish, in the middle you've got a little box, yeah?
Carl:
Yep.
Pete:
That's called an LNB.
Carl:
Which means?
Pete:
It's a low noise blocking thing.
Carl:
You don't really care, do you?
Pete:
I don't really care, but it's got an LNB on it. Now they sit there, they point at the curve of the dish, and actually deal with getting the signal from the satellites via the dish, down your bit of wire into the back of your box. Now, if you ever need to have more than one tuner connected to an LNB, you need to get an LNB with multiple outputs. Now, I've got a picture here.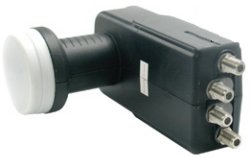 A Quad LNB - Note the four outputs
Carl:
Ooh, isn't that nice? It's an LNB with multiple outputs.
Pete:
Carl, can you just describe that for me? So it's got a receiver thingy there, and at the bottom it's got ...
Carl:
It's just got four sockets, for multiple outputs really, just four of them.
Pete:
There you go, so this is what's called a quad LNB, so it has a maximum of four outputs. Now, that would mean in your house you could have four individual standard Sky boxes, for instance, or satellite boxes, or two Sky Plus boxes, because a Sky Plus box needs two feeds - are you with me so far?
Carl:
Following.
Pete:
The maximum you can get with these is octo, or eight outputs.
Carl:
Oooh!
Pete:
Which would let you have eight satellite receivers or four Sky Plus type receivers.
Carl:
Wow!
Pete:
So if you find you've already got yourself a single satellite dish with a single output and a single piece of wire running to your box, and you decide you want to go out and buy either Sky Plus, or you want to get yourself a Humax Foxsat PVR, or something that's got two built-in tuners, you do need to get a second wire, run through the hole in your wall to an LNB that has two or more outputs on it.
Carl:
OK.
Pete:
And what we'll also do is we'll get Mr Web Guy to stick up a picture on our show notes, so people can see what we mean.
Carl:
That'd be fantastic, and don't forget to go and look at us at www.frequencycast.co.uk.
Listen to FrequencyCast Show 44 - Free TV Explored
More Show 44 transcripts:
More information:
Podcast # 44 - Our feature on subscription-free TV
Free TV - Our round-up of the free TV options
Handy Links: