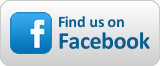 FrequencyCast UK - Show #44
The show notes to go with Show 44 of our online technology radio show.

Listen to, or download, FrequencyCast Show 44 (31 mins)
Show 44: NEWS
This show's news section covered the following stories:
Retune your Freeview: First off, if you have Freeview, note that the 30th of September 2009 was National Freeview Retune Day. There have been a bunch of changes to the Freeview lineup - some channels have changed multiplex, there's now the new documentary channel Quest (finally), and ITV2+1 will be going to make way for ITV1 +1. If you haven't already done so, you need to re-scan your Freeview line-up. How to tune your Freeview.


BT Vision Update: BT Vision has added Bolly and Beyond, hours of on demand Bollywood TV shows, movies and music. There's also a 24 hour shopping channel on BT Vision channel 960.


DAB Radio News: Premier Christian Radio has today gone national. The London-based radio station has today joined Absolute Radio, Talk Sport, Planet Rock, Amazing Radio, Classic FM and Kids Radio on the National DAB Multiplex. Digital Radio information


Google SideWiki: Google, the masters of the web have just launched SideWiki. You need to install a new version of the Google Toolbar, and it lets you add comments on websites you visit, for all other SideWiki users to see. Who fancies being the first to SideWiki FrequencyCast.co.uk?


Sky comes to Xbox: X-Box 360 users will be able to get TV shows from Sky from October. As well as adding Sky Player, the software update is also expected to bring Facebook and social networking to X-Box.


Free Wi-fi with your coffee: Starbucks now offering free in-store wi-fi to those with a Starbucks loyalty card.


WKRP in the UK: Classic US radio station comedy, WKRP, is finally available in the UK. Series 1 of WKRP is available for download from iTunes. All 22 episodes will cost you just over £20.


Palm Pre October Launch: The Palm Pre, dubbed the iPhone killer, is due out on the 16th October, exclusively on o2. Available for free if you're ok with a £35 a month contract for 24 months. Touch-screen and a very impressive interface, this is one to watch


And finally... How's your Broadband speed? With BT poised to rol lout 20Mbps, here's a nice speed story. A South African IT firm was so hacked off with the speed of their broadband connection to their Head Office, they tried an experiment. They started the transfer of a large file between offices. At the same time, they downloaded the file to a 4Gig memory stick, strapped it to leg of Winston, a carrier pigeon, and set him on his way.
The pigeon process took a little over 2 hours to complete the 60-mile trip. The file transfer was only 4% complete by the time the pigeon-post file was installed at the other end. Could this be the future? Send us a Tweet... Geddit?


FOCUS: Subscription-free TV
In these tough financial times, saving money is a top priority for many. Those with Sky will find that they may be paying £700 a year for their digital TV, which is pretty hefty. We explore the subscription-free options.
Here's our summary of the subscription-free options:
| | | | | |
| --- | --- | --- | --- | --- |
| | Freeview | BT Vision | FreeSat (BBC/ITV) | Sky FreeSat from Sky |
| Channels | 40 | 40 + On Demand | 105 | 220 |
| Dave | Yes | Yes | No | No |
| BBC 3, BBC 4 | Yes | Yes | Yes | Yes |
| ITV 2, 3, 4 | Yes | Yes | Yes | Yes |
| E4, More 4 | Yes | Yes | Yes | Yes |
| Zone Thriller | No | No | Yes | Yes |
| True Movies | No | No | Yes | Yes |
| Movies 4 Men | No | No | Yes | Yes |
| BBC HD | Yes | No | Yes | No |
| ITV HD | Yes | No | Yes | No |
| How does it work? | Via TV aerial | Via TV Aerial and Broadband | Via Satellite Dish | Via Satellite Dish |
| Cost? | One-off box cost of £20 | One-off box cost of £20. Extra content from 79p a show | One off box costs £50. Dish installation £80 | One-off payment of £147 (box and installation) |
| How to get it | Buy a box from Currys or Argos | Order online from get.btvision.bt.com | Buy box and installation pack Currys or Argos | Call 08442 410 595. Freesat from Sky |
Satellite Dish LNB
In the show, we discussed the fact that twin-tuner satellite boxes such as Sky+, Sky+ HD and the Humax Foxsat HD need two feeds from the satellite dish, not one. You will need an LNB on the dish that copes with multiple outputs. For help on this, go to Radio and Telly's Satellite Dish Installation FAQ.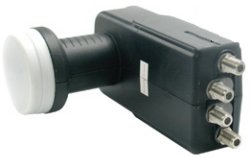 A Quad LNB - Note the four outputs
FOCUS: MiFi Personal Wi-fi
Need high-speed Broadband on the move? 3 has just launched MiFi, a portable Wireless basestation. 3 has just launched MiFi, their mobile wi-fi modem service.
The MiFi modem is a combined 3G data modem and wi-fi access point. It connects to 3's data network, and re-broadcasts an Internet connection over standard wi-fi to any wireless-enabled device in range.
The MiFi costs a one-off £50, plus £15 a month for 5GB of downloads. No long-term contract. More details at three.co.uk/Mobile_Broadband/MiFi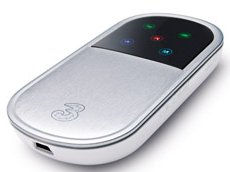 MiFi Modem from 3
FOCUS: TV in other rooms
In the show, we covered the options for getting TV in a second room. Here's a summary:
Option 1: Get a second receiver box. Freeview boxes cost from £20. If you're with Sky, consider Sky Multiroom
Option 2: Run an aerial cable from one room to the other. Aerial Extension kits are available from Maplin.co.uk
Option 3: Get an AV Video Sender. There's a range available from maplin.co.uk.
For more help on getting TV in other rooms, see Radio and Telly's TV in a second room page
Cast 44: Interactive
Thanks to everyone who got in touch. In this show, we respond to the following mails and calls:
BT Vision HD: Chris Combe asks "Will the BT Vision+ Box be able to handle Freeview HD when it eventually arrives?"

Sorry, but no. Although the BT Vision V+ box has an HDMI socket, it doesn't support the new Freeview HD technology. For Freeview HD, a Freeview receiver needs to support DVB-T2 and MPEG-4. The chipset in the current BT Vision V+ box doesn't support DVB-T2, but the rumours of a "version 2" V+ box continue. BT'd be mad not to support HD in their second version of V+ box, which we're guessing will appear in the first half of 2010.


Slingbox Installation: Next, Kay asks: "I am looking into buying a Slingbox and Slingcatcher. I am not that techno savvy. Could you recommend a company that could install the Slingbox in the Manchester area as I am in Cyprus?".

Slingbox is a great product to let you watch TV from your set-top box anywhere in the world over the Internet. We can't recommend anyone that can host one for you in Manchester, but we have lots of help on the site if you have a friend in the UK that could get themselves a Slingbox and needs help getting it installed. Links: Slingbox Basics , Slingbox Help.


Home Hub Powersaving: Brian Hinds asked "I'm using a BT Hub 2.0, but not using Powersave. Is there a lot of difference without using power save?"

Version 2 of the BT Home Hub has a setting to enable Powersave, which turns off wi-fi during your off hours. In normal mode, the Hub consumes 10 watts, which drops to 7 watts in powersave. It'll cost around £10 a year to power a Home Hub at 1- watts. You'll save around £1.15 a year if you go into standby for 8 hours a day. Check out Cast 30 where we discussed watts and how to save power. See our How Many Watts page for more on how much energy your gadgets consume.


Top Up TV boxes: Next, we had a call to our podline asking for a TopUp TV box with two SCART sockets. There are about 6 to choose from, made by Thomson, Bush and Sharp. Cheapest we can find is the standard Thomson Top Up TV box for just under £90.


Any questions for Carl & Pete? Got a comment on the world of TV and Technology?
Call 020 8133 4567 and leave a message and be heard on the show, or ask in our listeners forum.


Enjoyed the show? Add us to iTunes, sign up to get email alerts, or consider adding a nice iTunes review
Comments on this show? Please post them in our forum.

Want new shows as soon as they're released?
Get FrequencyCast shows automatically, as soon as we've finished them:
Got iTunes? Add FrequencyCast to iTunes


Otherwise, use Juice or another podcatcher to subscribe to our show feed.
Our feed address: https://feeds.feedburner.com/frequencycast