UK Digital Switchover Explained
The UK's digital TV switchover took place between 2007 and 2012, with homes in the UK switching over to digital TV, as the Government switched off the old analogue TV service.
Digital Switchover - Now complete!
The digital switchover completed in the UK in October 2012. This page was written whilst the switchover was taking place, and has been left here for those looking for information on the digital switchover.
We covered the Digital Switchover in Show 07 of our online radio show. We've also recorded an "Unofficial Audio Guide" with useful advice on the switch. Both shows are free - you can listen online, or download to your computer or mp3 player... give them a listen!
This page explains more about the digital switchover, how it affects you, and helps to explain the digital options open to you.
What is the switch-over?
Since TV began broadcasting in the UK, the pictures have been beamed to our homes over-the-air, and received via a TV aerial. When TV began, it used analogue technology. TV channels are broadcast on the UHF band, on numbered channels between 21 and 68, as shown in the picture below

Example of analogue TV on UHF Band in the UK
There are a couple of problems with current analogue system - one is that it's not an efficient use of the airwaves, but secondly, there's only enough space for a limited number of channels. The Government has decided to turn off the analogue service in the UK by the year 2012, so that the frequency band can be used for new digital services. Digital services use a clever process known as 'multiplexing' to squeeze lots of TV channels into a single block, that takes up a single slot on the UHF band - this means that we can go from the current number of five analogue TV channels, to a much higher number. At present, there are six Digital Terrestrial TV multiplexes are in use, each carrying about eight TV and radio stations - these make up the 50 free-to-view channels that we know as Freeview.
The upshot - With standard TV being switched off in the next few years, we need to switch to Digital, and we are being encouraged to start now. As well as Freeview, there are satellite and cable options, as we explore below.
The benefits to us
The key benefits are: an increase in the number of TV channels (offering a wider choice), and a digital TV signal that's less prone to some of the interference common to analogue TV reception. The new technology means that services such as digital teletext, interactive TV services, electronic programme guides, and new kit such as digital recorders that use a hard-disk not videotape.
Switch-over timetable
The UK Digital Switchover started in 2008 and will complete by late 2012. The existing analogue services will be switched off across the UK, by TV region, in accordance with the following timetable:
| | |
| --- | --- |
| 2008 | Border |
| 2009 | Granada, West Country and Wales |
| 2010 | West, Grampian and Scottish |
| 2011 | Central, Anglia and Yorkshire |
| 2012 | London, Meridian, Tyne Tees and Ulster |
What are the digital TV options?
The switchover started in 2008, ending in 2012 - by then, all of our TVs and recorders need to be able to get digital TV. Here are the options:
Freeview

Freeview is, as the name suggests, a free digital TV service. Some new TV sets come with a built-in Freeview tuner (which can be used after the digital switchover), but for most of us, you can get Freeview digital TV by buying a set-top box (from £25). It plugs into your TV aerial and your existing TV set.

The Freeview set-top box gets the digital TV signals over-the-air. All channels are free to watch - there's no monthly subscription cost and you connect it yourself.

Freeview offers around 60 channels of digital TV and radio - OK, so there's less channels than you'll find on Sky, but you won't be tied into a subscription, or monthly charges. The free digital TV channels on offer include BBC3, ITV3, ITV4, Film Four, Pick TV, E4, BBC News, Film 4, Dave, Quest, 5*, 5 USA, CNN, Yesterday and More4.

To get Freeview, check you're in a coverage area (about 75% of the UK is covered, and this will increase as we get closer to switch-over). Then, buy a set-top box. These are available for upwards of £25 from Currys and Argos

More on our Freeview page

Satellite TV

The UK's digital satellite TV provider is Sky Digital. This offers the largest range of channels, some of which are free to watch, but most require a Sky Digital subscription, which is paid monthly.

To get Sky, you need to sign up, then have one of Sky's engineers to install a satellite dish to your house and to connect a 'digibox' - a set-top box that into your TV. Sky Digital's quality is excellent, and extras such as high-definition TV and the Sky+ hard-disk recorder are available.

Offer: Sky Digital is offering the following package: Over 200 digital TV channels, a free set-top box, Broadband Internet access (with a free router) and free UK evening and weekend landline calls. The price for this package is just £20 a month.

More info on our Sky Digital page, or go to www.sky.com.

If you're looking for a free alternative, consider Freesat. More on our Free TV page

BT Vision

BT Vision offers live TV via a TV aerial (the standard Freeview channels), plus access to a huge collection of on-demand movies, sport and TV shows on your telly over Broadband, including catch-up TV from the BBC, ITV, Channel 4 and Five.

The BT Vision box, with built-in recorder, is available to customers of BT's Broadband service.

More on our BT Vision page, or at btvision.bt.com

Cable

Cable TV has undergone some changes over the years, and now you can use cable to get your telephone service, broadband Internet and Digital TV. Cable TV is supplied via high-bandwidth cable connected to your home, and you pay a monthly subscription fee for the phone, Internet and TV service you're looking for. Typically, it's only areas of high population that are served by a cable provider, but if there's one in your area, this option will get you more channels than Freeview, bundled with phone and 'net services. When you sign up, you'll need a set-top box to receive services, and you'll need a visit from an engineer to connect you.

To see if cable TV is available in your area, go to www.virginmedia.com

More on our Cable TV page and our Virgin Media TV page
Your Digital Switch questions:
Q. "I'm not very technical. I want to go with Freeview, but don't know how to install it. Help!" - From Simon G
A. We've now added a 'Dummies Guide' (no offence) on how to install a Freeview box to an analogue telly. See Connect Freeview
Q. One channel at a time? "If you have a set top box, and this is your only means of TV, does this mean you can only record what you are watching, as it appears to me that the TV comes in through a SCART and is only one channel." - From Stuart
A. Most Freeview set-top boxes come with a single tuner, so they can only be used to watch/record one channel at a time. If you want to be able to watch one digital channel while recording a different digital channel, you'll either need two boxes, or a box with a 'twin tuner'. More and more people are moving over to Digital Video Recorders (DVR), which normally have two tuners and support recording onto hard-disk. There are also a few video cassette recorders and DVD recorders that come with built-in Freeview tuners. We cover digital video recorders in Show 6 of our podcast.
Q. Portable TV - One or more of my TV sets or portable TVs is not a digital TV. I want to be able to use it/them after the analogue switchoff - what should I do?
A. If you have an analogue TV set, you'll still be able to use it after the switchover... you can view digital TV channels by connecting your TV to a digital TV receiver:

If you have cable TV or Sky, you can run an aerial from your set-top box to the TVs in question.
Failing that, you can get a Freeview set-top box that can connect into a TV's SCART socket. If the TV doesn't have a SCART socket, see our No SCART FAQ.
Q. "Do you need special aerial cable?" - From Billy Simpson
Q. "Will TV aerial points need to be changed?" - Scott Dougherty
A. No, standard aerial cable and TV aerial points are sufficient for receiving Freeview. Freeview digital TV is received over a standard TV aerial and aerial wiring just like analogue - the difference is in the receiver - you need a digital TV receiver, not an analogue one. For Freeview, this may be a set-top box receiver or one built-in to a digital-ready TV. These are connected to your TV aerial
Regarding aerials - To ensure a good picture without breakup, ensure your cabling is in good condition. If your system is prone to interference, or close to a lot of mains cable, higher quality co-ax cable can help to screen out interference.
Q. Do I need a Dish? "If you buy a digital TV set, do you still need a cable or dish or to subscribe to one of the services?" - From Karen R
A. We assume by 'Digital TV set', you're referring to a TV set that has a built-in Digital TV receiver. If this is the case, the TV has a tuner capable of receiving the 'Freeview' channels. To get Freeview on a TV with a built-in digital tuner, you need to be in a Freeview area with a good signal. Freeview is received on a TV aerial, so you don't need a dish or cable subscription.
You don't need a special TV to get Sky or Cable, as the signal comes in via a set-top box. As long as the TV has a SCART socket, it'll work with Sky or Cable. If you're looking to buy a new TV, you may want to consider one with a built-in Freeview tuner, and one that's HD Ready (High definition)
Q. "We have a Freeview box which receives its information from the rooftop aerial. When the analogue signal is turned off, does this mean the aerial won't get the digital signal and we'll need a dish or cable?" - From Paula
A. Don't worry - Freeview is Digital TV. Yes, it's picked up by an aerial like analogue telly, but Freeview will continue beyond the analogue switchoff - in fact Freeview will improve after the switch-off, as transmitter power can then be increased.
Q. "Do I need to buy a new TV?" - From Chris Thomas
A. No. You'll be able to view digital TV on existing TV sets - you may need to connect it do a digital set-top box though. See SwitchHelp's New TV FAQ for more.
Q. "Will I need a high-definition HD TV after the digital switchover?" - From Nigel Whitehead
A. No. Digital TV and High-definition TV are different things. You do not need to buy a hi-definition TV set to receive digital TV after the switchover.
Q. "If an area has a good Freeview signal, then come the switchover date, can you confirm that no outside aerial will be required if all you want to watch is "terrestrial TV", and all that is required is a Freeview box?" - From Simon
A. Sorry - but no. You'll still need a TV aerial to get Freeview after the digital switchover. When switchover happens and the digital signals are increased in power, more homes should be able to make use of indoor aerials to get a decent signal, but Freeview boxes and digital TVs will still need connection to some kind of aerial to get a signal.
Q. "I can't get Freeview in my area. How do I know when my transmitter will go digital?" - From Wilf and Don
A. At the moment, transmitter power on digital transmissions is deliberately being limited, so that it doesn't interfere with analogue TV. Many of the Freeview transmitters are on reduced power, and many transmitters have not been upgraded to digital yet. Both of these situations will change as your region gets closer to the digital switchover. If you're keen to know when your local transmitter will go digital, here are some useful links that should help you identify your local analogue and digital TV transmitters, find information about the transmitter sites, see when your transmitter will be converted to a digital transmitter, and get details of who maintains each TV transmitter site.
Q. "My Freeview signal on some channels isn't great. Will this get better?" Kristian
A. At the moment, to prevent interference with analogue TV, the digital signals are not running at full power. Power will be increased, and more digital transmitters will be added to the network as we get closer to switchover. If you're looking for help on improving your reception, please see our Freeview Advice page, or take a listen to Show 14 of our online radio show.
Q. I don't want these changes. I don't want to buy a set-top box. Why are these changes happening? Can I stay on analogue? - Peter Wood
A. The UK Government has committed to switching to digital TV by 2012. Once the switch is complete, the existing analogue services will be turned off, leaving anyone that hasn't switched to a digital TV, without TV service. Digital boxes now cost around £20 as a one-off payment. It's assumed that the low-cost outlay for the benefit of an extra 25 channels of telly will be enough to encourage most people to switch. If you have really strong anti-digital TV beliefs, have no interest in the extra channels, or don't agree with the analogue switch-off principle, you need to complain to the Government - you could try lodging a complaint with your MP, or contacting the UK regulator, OfCom.
Q. What about digital on portable TVs? - From Ian Coxall
A. At the moment, transmitter power on digital services is reduced, so's not to interfere with terrestrial TV. When we get to switchover, power will be increased, and many of the smaller analogue transmitters will go digital - this means that TV sets / set-top boxes that can't be connected to a decent roof aerial will stand more of a chance of getting a decent Freeview signal with a portable or set-top aerial.
See also: Converting an existing TV
Q. "My TV upstairs isn't hooked into the rooftop aerial, it just has an in-built aerial attached to the set. If I were to purchase a digibox, how would I hook it up?" - From Ally
A. Portable and indoor aerials often aren't up to the job of getting a good enough signal for Freeview, unless you're in a good signal area. The best bet is to get a connection to your TV from a roof aerial. For more on using portable aerials, see our Freeview Reception Help page. For help connecting a Freeview box to an aerial, see our Freeview Connect section
Q. We have several portable TVs in our home. Does this mean we will have to buy a digibox for each TV? We have Sky on our main TV - Kathy
A. To watch TV after the switchover, existing portable TVs will need to be connected to a digital TV receiver. You could either get a digital set-top box for each TV, or use a distribution system (an amplified splitter, feeding to TVs via aerial cable) to feed one Sky TV or Freeview box to other TVs in the house.
Q. Is my TV ready? I have a fairly old TV (two years) but was wondering, how can you tell if its digital ready or if there's some special marking to identify the digital switch over? - Barry

A. Many new TV sets and recorders are now displaying the Digital TV Ready logo (pictured to the right). If your TV has a built-in Digital TV receiver (i.e. can get the Freeview channels via a TV aerial), then it's ready for the switchover. If you're not sure, check the TV's onscreen menus, or the TV manual. If your TV doesn't have built-in Freeview, , then you don't need to throw your telly away - what you need to do is connect it to a digital set-top box - either Freeview, BT Vision, satellite or cable. See the options above.
Assuming your TV has a socket suitable for a SCART lead (pictured to the right), if you want the free channels, then for £20 you can get cheap-and-cheerful Freeview receiver that plugs into the SCART socket on your telly meaning you'll still be able to get TV after the analogue switch-off.
Q. We have a TV with a single built in Freeview tuner. What, if anything, do we need to do to be able to continue to record onto VHS when only digital TV is available? - Steve
A. Most TV sets with integral Freeview tuner support sending the TV's Freeview output via SCART socket for connection to a DVD or VHS recorder. You should check your digital TV's manual to see how to get the Freeview output connected to a recorder. In the event that your TV doesn't support outputting Freeview to a SCART socket, the other option is to get a Freeview box just for use with your recorder.
Q. I've just bought a Panasonic TH-42PX60B with an integrated digital tuner. From what I can understand from the manual, I can't record a Freeview channel and turn off the TV or even put it in standby mode! So... what do I do when I want to go out and record something or record something in the early hours of the morning? - Steven Tucker
A. If your IDTV can't send Freeview to a recorder when it's powered off, then you have a couple of options. You could look for a DVD recorder or a DVR hard-disk recorder with a built-in Freeview receiver. If this isn't an option, consider getting a cheap Freeview box or even the Bush idapter (from Currys), just for your recorder. Plug this in, and you'll be able to record directly from it - this solution also gives you the option to record one digital channel while you use your telly to watch another Freeview channel.
Q. My daughter has a telly in her room, but only watches videos and DVDs on her telly. Will we have to convert hers to digital or will she still be able to watch videos and DVDs? - From Sallianne
A. All that the digital switchover affects, is the ability to watch analogue TV (the 5 standard channels) via a TV aerial. If your daughter doesn't want to watch or record live TV in her room, she won't need to 'go digital' - playback of video/DVD isn't affected by the digital switchover.
Q. When I view via my Freeview box, I can not access the current teletext or Ceefax pages I read on analogue TV. Once the switch over occurs, will I no longer be able to keep myself up-to-date with news via teletext? Louisa
A. With digital TV, such as Sky or Freeview, the old-fashioned teletext service has gone out of the window, and we have the new high-tech Interactive service. Go to BBC1 and press the Red button to get to the new-look text service. You can also get to the Interactive text service on channel 100 (Teletext) and 105 (BBCi)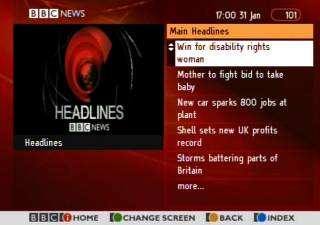 BBC's Interactive service on Freeview
Q. TV Licence: I have been told that when we go digital we will no longer have to have a TV licence. Is this true? - Margaret Hawksworth
A. Sorry - not true. You need a TV licence to watch digital TV in the UK. BBC channels are funded by the UK TV licence fee
Q. If I don't 'go digital' when the switchover happens, thereby being unable to receive TV signals, will I still need a TV licence to watch videos and DVDs? - Mike James
A. Under the Communications Act 2003, you need a valid TV licence if you're in the UK, and your home has one or more TV or any other device that which is used to receive or record TV programmes. This applies whether TV signals are received by a satellite, cable or land based transmitter. So, if your home doesn't own any equipment that used for recording or watching TV, you don't need a licence.
Guidance on the TV Licensing site suggests that you notify them in writing if this is the case - one of their Enforcement Officers may need to visit your home to confirm that you do not need a licence. See the TV Licensing site if you need more help on this subject.
Q. I am led to believe that prior to digital switchover,the government has indicated that they will offer assistance to the disabled & pensioners. Can you confirm this please & if so how do I go about making a claim? - N Harper
A. According to the digitaluk.co.uk site, there will be a scheme that will provide equipment and installation help to convert one TV set. This will be offered to people aged 75 years and over, as well as people with significant disabilities (i.e. receiving attendance allowance or disability living allowance). Those eligible for help will be sent more information well before their area goes digital.
Q. I have just bought my grandfather a radio for Christmas but it is not digital. Does that matter? - Claire Dixon
A. The digital switchover affects TV, not radio. There are no plans to turn off FM or AM radio at the moment. DAB Digital Radio offers a wider choice of radio stations than those found on FM. For more information on digital radio, see our DAB Radio section
Q. If I buy a TV with a digital receiver now, can I still view channels on analogue before the switch over? - Paul Pierre,
A. As long as the TV also has an analogue TV tuner (and most do), then yes, you can watch analogue TV via your TV aerial.
Q. Should I be careful what DVD I buy now? We have digital services throughout the house - Russell Roberts
A. Possibly. See our answer in our DVD Recorder FAQ.
Q. My TV has no SCART socket. Can I connect a Freeview set-top box?
- Bonita
A. There are three options for connecting equipment to a telly that doesn't have a SCART socket:

Look for a Freeview set-top box that has a modulated output. Cheaper boxes don't have such an output. Consider the Icecrypt T5000 from Play and Amazon- Freeview for TV sets without SCART.
Connect through a video recorder - these normally have a modulated output, so you can watch Freeview via the video recorder's aerial output
Get an RF modulator box - these convert SCART to aerial.
Got a question that we can answer in our next podcast? Leave us a voicemail on 0208 1334567