Gadget Show Live 2011 Reviewed - Part 2
The second half of the transcript of our experiences at Gadget Show Live at the NEC in Birmingham
Listen to Show 63, our round-up of Gadget Show Live 2011 (31 mins)
Gadget Show Live 2011 Explored by Carl and Pete: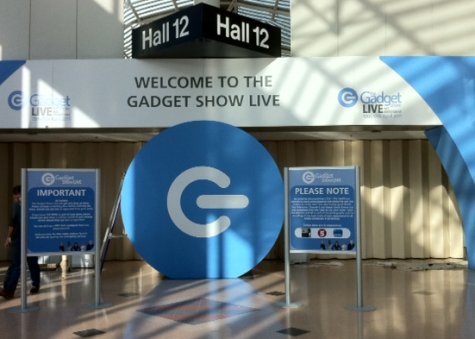 Transcript continues from Gadget Show Live 2011 Transcript Part 1
Pete:
Something else we'd like to cover in a little bit more detail is that lovely headset that you had on. At one point, you were sat down in a chair, and a little headset was plonked on top of your head, and a thing hanging off your ear to earth you.
Carl:
I've still got a dent in my head - ouch! It hurts! Stop it! Stop it, stop poking me!
Pete:
So this was a company called NeuroSky, and we spoke to David, Boris and Kelly to find out what their wonderful product was all about. If I got it right, Carl, they were looking for your brain.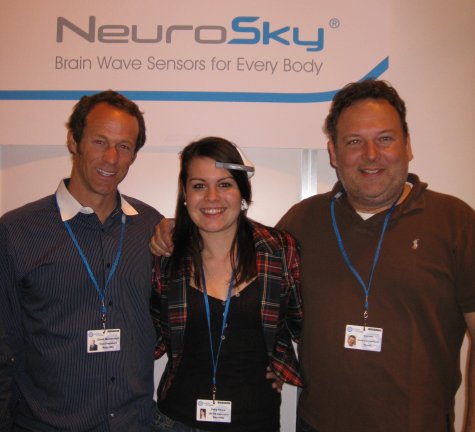 David:
We've confirmed that indeed he has a brain, but we're going to test his mathematical skills against the average second-grader.
Pete:
So you've tested Carl's brain. Does it give you a size?
David:
Yeah, it gives actually a sign that the brain exists, and the size is quite big. We are now trying to see how smart he is, not only the size.
Pete:
Now, is size important, Kelly?
Kelly:
Size is always important to any girl.
Pete:
OK, so David, talk me through what we're going to do.
David: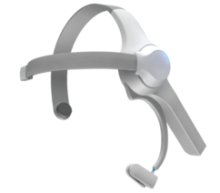 We're measuring Carl's EEG, which is the electroencephalogram signal that comes off of his head. Over the next 30 seconds, we're going to have him answer as many questions as he can, and at the end of the 30 second period, we can see how much attention he was paying at each question.
Pete:
I understand. Right, Carl - are you ready?
Carl:
Sorry, what's going on?
Pete:
Right, it's just asked Carl, 78 minus 55. 23, right; now 87 plus 48, Carl?
Carl:
It's some other number, but it's bigger than 12.
Pete:
No rush!
David:
Notice his attention level as he gets frustrated. Now he's listening to what I'm saying, and you can watch his attention level literally go from engagement to disengagement.
Pete:
Oh, 12 minus three!
David:
He got that right!
Carl:
I'm doing all right!
Pete:
OK, so I reckon you've failed there. Let's have a look - you've finished, let's look at the results ...
David:
Carl started off at a reasonably high level of attention. He got two questions right and then basically just levelled off, and he never really re-engaged. So his retention level was in sort of the bottom third area. Had he been in a second-grade class setting, and if I would have been his teacher, I probably would have said, you need to go back and study last night's lesson.
Carl:
I liked him at the beginning of that sentence, and at the end of it, I kind of lost interest.
David:
Maybe, at the end of the day, size does matter.
Kelly:
But I think he's a lost cause, in all honesty!
Carl:
I don't think I've pulled Kelly.
David:
The benefits for parents, for teachers, for tutors is really academic in the sense that we give lessons in the form of maths and memory and pattern recognition, and we're able to determine whether the student is paying attention. We also try to do it in a fun way. We have a couple of more enjoyable, whimsical games, Minty Ant and Jack's Adventure, and these all come on a bonus CD which is included with the MindWave that we're selling here at the show, and it's available at NeuroSky.com as well.
Pete:
Aah - poor Carl, you poor thing.
Carl:
Huh?
Pete:
There's a longer version of that interview up on our show notes, and it may be something that we come back to again in the future. Thanks very much to the guys and girl from NeuroSky.
Next up, we found a company called Mi Suny. Now, I was wandering around the Gadget Show Live with my trusty iPhone, but I had a problem - my batteries were running a little low. In my bag, I had a spare Power Monkey to give me a bit of a power boost, but we found a rather nice solution, didn't we?
Carl:
Excuse me - I was the hero; I found that stand. You're just trying to take credit for this. I was the one who had a little chat with Jason, and he explained to us how his fantastic product worked, and it is. I even like it, I don't have an iPhone!
Jason:
We've designed an iPhone charger. This one in particular is for the iPhone 4, which you're holding. It has an internal battery, which is a 2,400 milliamp battery. It could be charged via USB or via the solar panel.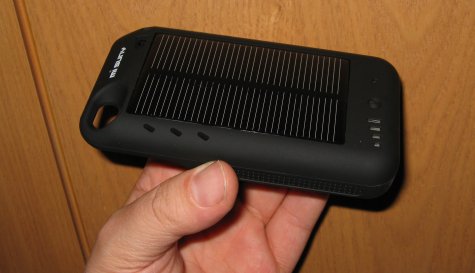 Pete:
Solar power - lovely, good idea.
Jason:
Absolutely. We use inverted cells on the solar panel. That's to ensure that we get ambient lighting as well as direct UV lighting to get the charge, and obviously based in England, we need as much help as we can with the weather.
Carl:
Excellent. I'm just going to try this now, so I'm going to slot the iPhone 4, I've taken it out of my protective case into this device. There we go. The iPhone slides in top to bottom, connects into the standard iPhone connector. It adds a little bit of height to it; not a lot of weight, which is rather good, and on the back it gets kind of clever, because I've got five LEDs. What am I looking at here?
Jason:
Four LEDs indicate the level of power that's actually in the charger right now, and the small red LED indicates that it's actually picking up a charge via the solar panel.
Carl:
I see, so at the moment we've got a bright red light. That's because presumably we're under a good spotlight - is that right?
Jason:
Absolutely.
Carl:
And the little button here's a power button?
Jason:
One click will actually show you the level of charge in the actual charger; two clicks will actually activate the charging and transfer the power to your iPhone.
Carl:
What kind of time could I expect to get from this, from say an iPhone 4?
Jason:
Because the battery's 2,400, which is more than double than the current iPhone battery, you'll get nearly two full charges from it.
Carl:
So I'm obviously looking at the iPhone 4 version, and you've got some other devices as well?
Jason:
That's right, we do one for the 3G, 3GS model. We also do the iPod and we've currently just got this new development, which is the iPad.
Carl:
Is this the new iPad or the first generation iPad?
Jason:
This is the first generation. We're currently working with a prototype on the iPad 2, and we're about twelve weeks away from seeing that prototype.
Carl:
What I really like about this is, on the other side you can slide the solar cell out, which effectively means you can stand the iPad up like a picture frame, with the solar cells pointing in the direction of your window or the light to charge up.
Jason:
Absolutely. We wanted to make it a functional device while it's providing power to the actual charger. So we thought, if we incorporate the solar panel into a stand, it can stand up as a picture frame, or you can actually use the keyboard and receive charge at the same time.
Pete:
Links and pics up on our show notes.
Carl:
Next, we just had to do it; we could never resist. We had a good chat with our friends at sWaP, who in fact were just awarded a special certificate, in fact, whilst we were there.
Pete:
First, we caught up with Ty, one of the directors at sWaP, and he gave us a great overview of the entire range of sWaP watches, too long to play in this show, but we'll put the full interview up on our show notes, and as you say, a rather special award for sWaP. Here is Pete from sWaP, together with the man from the Guinness Book of Records, to tell us more.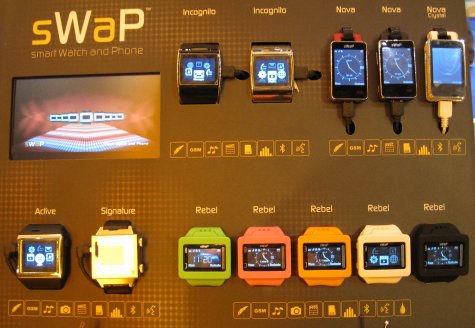 Pete:
Yes, we're very happy. We've just officially been given the world record for the lightest touchscreen mobile phone in the world by Alexander from the Guinness World Records, who was our adjudicator for today. The official numeric value, I believe, Alex, was?
Alex:
40.3 grams. Well, the previous record was 55.1 grams, so it's quite an achievement.
Pete:
Because not only have we beat the record, we've considerably beat it really, so we're all very happy in sWaP.
Carl:
It's going to be very hard for anyone else to beat that one, isn't it?
Pete:
Well, we'll see. Technology's changing every day, so we'll see - hopefully not, not too soon, anyway.
Carl:
So that's the record-breaking sWaP Nova, which is the lightest mobile phone.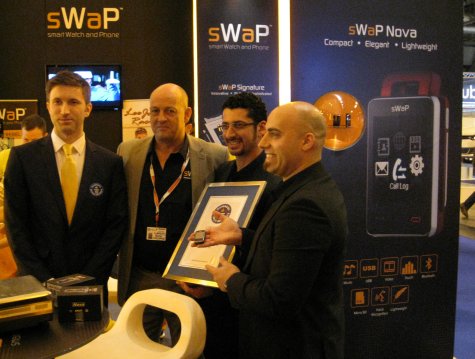 Pete:
Correct. We did a review a couple of shows back, but if you want to see the full review and the pictures, go to our show notes, where we'll point you in the right direction, and also give you a link to the interview with Ty about the rest of their wearable mobile phone range.
Next, it was time to talk protection, and in particular ways to keep your gadgets safe. We met a number of different companies that can help out.
Carl:
And one of those was Freckles & Gilbert, who did a nice array of handmade bags and cases for your products.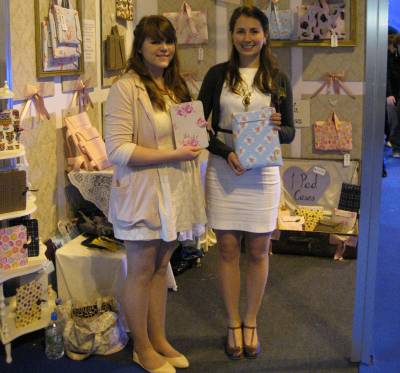 Pete:
In flowery, girly pink for you. We also found a stand that had little black bottles of goo that you smear on your gadgets, and it smelt of a cleaning product that you may remember from many, many years ago. We talked to one of the team at the stand to find out why you'd want to put Brasso on your expensive gadgets.
Brasso man:
Well, we found that people were using the old-fashioned Brasso on their iPods, iPads, to take out scratches and clean it up, but we realised that obviously you don't want to be putting something abrasive on your precious gadgets, so we thought we'd develop something brand-new that's specifically designed to clean up iPods, iPads, laptops, computer screens. Gadgetcare's completely non-abrasive, so rather than wearing down the layer, it just polishes it to a clean and shiny finish. It contains anti-static as well, which helps prevent dust, and the silicon in it also helps to fill in the cracks that have come up on your gadgets. So it's our first new product for 110 years. You can buy it in Tesco's, HMV and Amazon, and it retails at £5.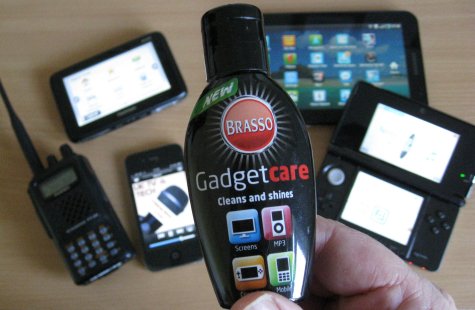 Carl:
Am I right in saying it adds a sort of protective coating as well?
Brasso man:
That's right, yeah - that's what the silicon's there for.
Carl:
So that actually means that in future fingerprints aren't going to be quite as obvious, once you've put a coating of this on, is that right?
Brasso man:
Yeah, that's right basically. So it's safe to use on all types of gadgets, the back of cameras, all different types of materials, plastic, glass, metal.
Carl:
Superb, and it comes in a little bottle, 50 ml bottle, and you get a nice little cleaning cloth with it as well. What I also like as well is it has that lovely Brasso smell - just for heritage, I'm assuming?
Brasso man:
That's right, yeah. We found that people did like the smell, so this is a slightly different smell to the old Brasso, but it's still quite sweet, that individual smell.
Pete:
Next up, we looked at another type of protection for your gadgets, and we spoke to a company called Protect Your Bubble. First off, we asked Dave, what is a gadget bubble?
Dave:
The bubble is a forcefield that sort of surrounds all of the gadgets that you hold dear, really. What we're trying to do with Protect Your Bubble is just protect what you hold dear, so things that you rely on, such as your laptop, your iPhone, your satellite navigation system. We're trying to put them all in one place and just try and protect it really, and that's what we're doing.
Pete:
Absolutely, and then when you buy something like, I don't know, let's say an iPad, which is £500-worth of technology, it's very easy to drop them, damage them, break them, and some kind of protection makes sense.
Dave:
We cover against accidental damage including liquid damage, because we have all heard the story of you knocking a pint on your iPad. We cover against theft, 60 days' worldwide travel per year - you get your twelfth month free.
Pete:
Now, I've got Carl standing next to me. Carl could have done with your service a little while ago. What did you manage to do with your Nokia fairly recently?
Carl:
I dropped it down the lavatory.
Dave:
That sounds like liquid damage to me.
Pete:
Is that something you would cover?
Dave:
It's an accident, and it's liquid damage, so yes, that is covered with the Protect Your Bubble policy.
Carl:
To find out more about this Protect Your Bubble, go to your show notes, where you can get a quote online.
Pete:
We also found lots and lots of headphone-related products, including some good stuff from the guys at MP3Players.co.uk. We found one stand in particular that we have to mention - we were attracted by the very stylish headphones, also by the amazing young ladies.
Carl:
Very pretty - Jade and Ellie.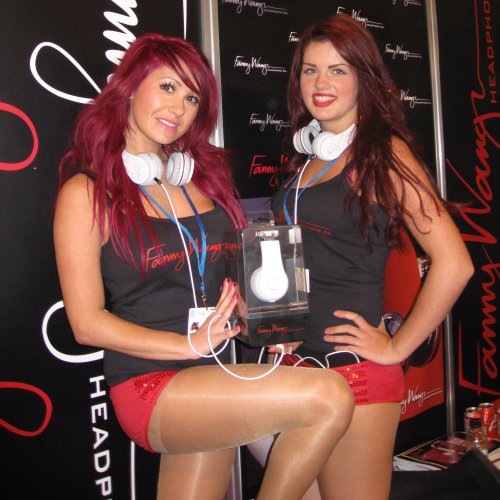 Pete:
Trust you to remember the names, but it was more the name of the company that we found amusing. We asked one of the girls to give us a hand with the pronunciation.
Jade:
Fanny Wang's headphones.
Carl:
I'm going to talk to Brendan now. Tell me about these headphones.
Brendan:
These headphones were launched at CES in Las Vegas in January. What we wanted to do was create a product that was beautiful, and attracted a wider audience. They can be worn as a fashion accessory, and also in the quality of the sound, because even though they still have a very punchy base for people that listen to hip hop, they also have a very clear response across the mids and highs. They're a very comfortable headphone to wear. They have special padding here on the top of the band. They're very robust. They have special padding on the ear muffs themselves, so even though they're not active noise cancellation, they do block out all the background sound, so even if you're listening to them in a very noisy environment like here at the Gadget Show, you can still get immersed in your music.
Carl:
And they are an incredibly comfortable wear, aren't they?
Brendan:
Very, very comfortable to wear. The other great thing is that we have patented the technology in the cord, which is called a duo jack, which allows you to share your music. One person described it today as a "music orgy", you can have a little party and share around the music. Everybody's sitting there listening, and there's no loss in quality.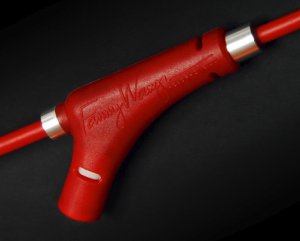 Carl:
That's really fantastic. So normally, with these splitters, when you plug in an additional pair of headphones, you start to lose volume, but with these, they don't, and you've had up to how many?
Brendan:
So we've tried it with twenty. We don't know how far it will go. If someone wants to set the record, there's a challenge.
Carl:
So once again, girls - what's the name of this company?
Girls:
Fanny Wangs.
Carl:
So for a picture of those, and the girls, go to our website.
Pete:
Frequencycast.co.uk/gsl is where you'll find all the pictures, and the full versions of the interviews that we've played here.
Listen to Show 63, our round-up of Gadget Show Live 2011 (31 mins)
Handy Links:
Show 63, our coverage of the 2011 Gadget Show Live in Birmingham