Gadget Show Live 2011 Reviewed
We trekked to the NEC in Birmingham for the huge consumer electronics show that is Gadget Show Live. Here a transcript of our review of the show
Listen to Show 63, our round-up of Gadget Show Live 2011 (31 mins)
Carl and Pete Explore Gadget Show Live:
Here's the first half of our transcript from Show 63, our summary of this year's GSL:
Carl:
Well now, it's Focus time, and today we're going to concentrate on what we did in Birmingham at the Gadget Show Live 2011 - great fun.
Pete:
Let me give you some facts about Gadget Show Live, for a start. First off, over 90,000 people were there.
Carl:
Good grief! - and I only counted 58,000 - I ran out of fingers.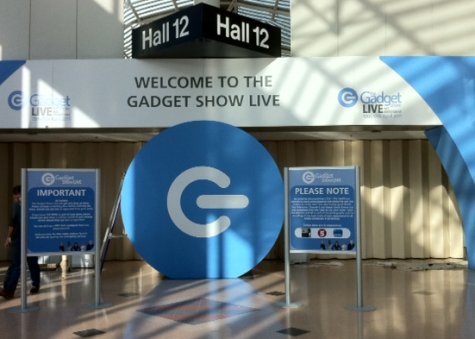 Pete:
Now, we went along on two days. The first day was what's called the Professional and Press day, which was on the Tuesday; we went along to that. After that, there were five public days, and of course we were there to see what was going on, and we met the presenters, including the lovely Pollyanna, who had this to say:
Pollyanna:
Well, you are at Gadget Show Live! It is, of course, that time of the year again - very excited this year; we have got big halls, it's getting bigger and better. I must admit, it's great to see you guys.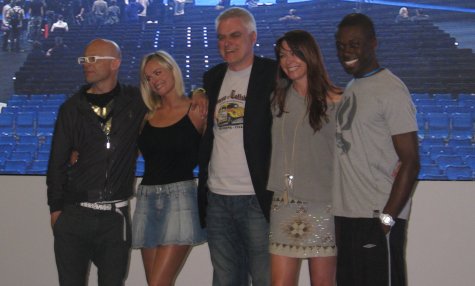 Pete:
She was lovely. So at Gadget Show Live, there were lots of different sections. There was the Super Theatre - now, we didn't go to any of those, but that's where the Gadget Show presenters were doing their stuff; the Game Zone - we stayed fairly clear of the Game Zone, didn't we, not being gamers?
Carl:
Yeah, we did, but we did go past the test tracks, and watch a few people falling off.
Pete:
And my favourite bit was the Hall of Fame, all those old BBC Bs and Electrons and ZX81s - all that was fun.
Carl:
And the C5, of course - don't forget that, and some Casio drum machines and sequencers - it was great!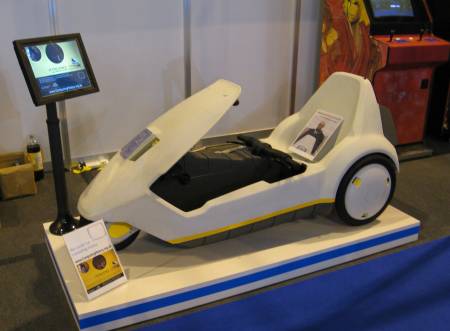 Pete:
So rather than sitting in the Theatre watching the Gadget Show presenters doing their stuff, we had a good old wander round and a natter with lots of the exhibitors. Now, it was a fairly busy hall, and I think we more or less saw everyone there, didn't we?
Carl:
We certainly saw them, whether we spoke to them or not's another thing.
Pete:
We took our trusty Olympus voice recorder along to record some interviews. Now, we're going to play you a few short extracts of various interviews that we did. The full versions of these interviews, and some that aren't featured in the show, can all be found on our website, so do have a look if you're interested in hearing more about any of these.
Carl:
Now, the first people we spoke to, we spoke about tablets, which we did back in show 60, which wasn't that long ago, in fact. They had something to tell us about the Windows operating system tablets that they had.
Pete:
We spoke to William from Lenovo, who was one of the team there to announce a brand-new product.
William:
This is the latest tablet product from Lenovo - it's the IdeaPad S1. So it's an Intel-based tablet with a Microsoft operating system. Obviously it comes with a 10.1" screen, and it's a 16 x 10 widescreen. Also it supports Adobe Flash, so you will be able to explore a website and also explore the Adobe Flash contents very easily, which is very key for both consumers and the commercial space. One specific feature - you can touch this by your finger. It also comes with a digitised pen. Why do we want to use a digitised pen? - because lots of the applications, whether consumer or commercial, you can use a finger to do it, but it will give you a better user experience and better precision if you use a pen. It's also pressure-sensitive, so if you press it harder, you know it will be a thicker line; if you press it lighter, it will be a thin line.
Pete:
We did a review of tablet devices a couple of shows ago. One of the key things that was missing from all the tablet devices relates to connectivity. Now, I'm assuming this obviously has Wi-Fi, I'll ask you in a second whether it has Bluetooth, but the key for me is USB.
William:
Yeah, this one does have a USB, because expansion, as I said - you can use the wireless, you can use the Bluetooth, but a quick connection via USB. We did reserve this one USB port over there. So no matter, you want to put in a mouse or you want to put in, there is a docking station available as well, or you want to just put in a quick Flash drive.
Pete:
And when is this product actually launching?
William:
For Europe, this is the first show that we showed our product to the general public.
Carl:
So that was one of many products launched at the Gadget Show Live.
Pete:
Correct. The IdeaPad S1 is due out in the second half of 2011, and we think it's one to watch. The price is to be confirmed. Take a look on our website, where you'll see a lovely pic of the tablet being held by two of the most amazing girls.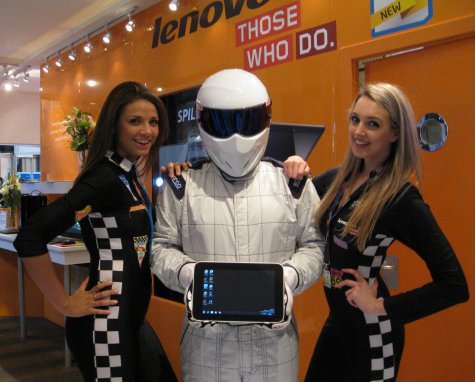 Carl:
Oh yeah!
Pete:
And talking of showgirls, there were lots of them wandering around the shows, hooking people in with their magic toys and teasing people to come and look at stands.
Carl:
So I've been walking round the Gadget Show, totally minding my own business, and I've just been harassed by two very sexy young ladies! What's your name?
Suze:
Suze.
Carl:
And what's your name?
Tara:
Tara.
Carl:
And what are you holding in your hands?
Tara:
The Steadicam Smoothee.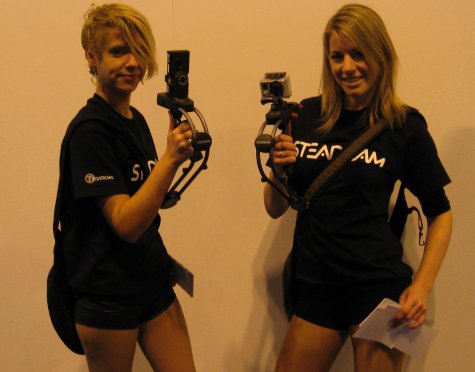 Carl:
Tell me all about this, Dan.
Dan:
What we've got here is a product called the Steadicam Smoothee. The Steadicam Smoothee is borne from the larger Steadicams that we use in the Hollywood range, sports industry, and it's currently balancing an iPhone 3GS.
Carl:
Good grief! So this is actually for the domestic market as opposed to the industry market, and this is an industry tool?
Dan:
Very much so, yeah. This is a consumer-end product. It gives the consumer a chance to own a piece of Hollywood, which allows you to balance, as I said - we've got an iPhone here, and iPhone 3GS. It balances an iPhone 4, and iPod Touch, the Flip, and also we're working on other mounts as well. It allows you to basically have a frictionless movement, and when you're walking along, it takes out the shake of using handheld. It's very simple to operate.
Carl:
This is only actually quite small. Let me just help the listeners understand this. This is about a foot high, I guess, and it's like a big, D-shaped bracket you're holding, with a handle that looks very comfortable. I had a little hold earlier, and it's so easy to use, it's unbelievable. It's got perfect balance, hasn't it? When would you expect people to use these?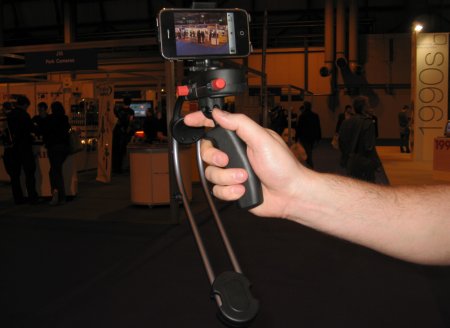 Dan:
We like to call these types of users, or in this particular case with the iPhone, iPhonographers.
Carl:
Nice - I like that.
Dan:
It seems to be a very catchy word that's going around. It's giving the guys that have iPhones, or any device that has movie footage or HD footage to, rather than just handhold, to give you that, when you see it, it's all shaky on YouTube videos, it looks very shaky, it takes away all of that. When you put it on the Steadicam Smoothee, you get complete motionless movement. There's no shake at all. Obviously, a little bit of practice - once you've got it down to a fine art, you can get the same type of footage that you would expect from some of the larger Steadicam products.
Tara:
It's very smooth.
Carl:
So you can see a picture of Suze and Tara on our website holding their big bendy gadget.
Pete:
Lovely stuff, it was. Next up, something for the lazy. We spoke to iRobot, who have the perfect solution for tidying up houses. Just give us a quick description, Carl.
Carl:
Well, it's circular, it's about a foot in diameter, and it stands about four inches off the ground. Well, it's a big sucker, if you ask me.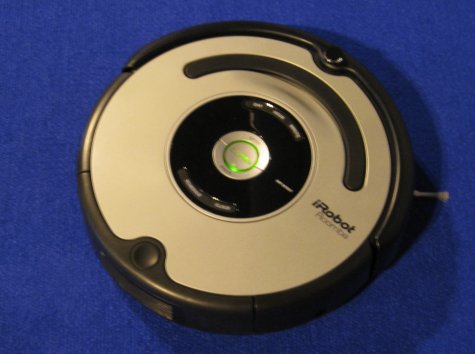 Pete:
And here's Clive from iRobot to tell us more.
Clive:
Well basically, the concept is very simple. It's a vacuum cleaning robot which allows you to vacuum your rooms in your house without you actually being there, in some cases.
Carl:
Hold on a minute - I'm almost completely redundant. I can move out. Will it do all the corners, and how will it do all the edges, because it is actually circular in design?
Clive:
Yes, well it's got three cleaning modes to the product. You've got one which goes round in a spiral; you've got one that goes criss-cross, and then you've also got one which goes along floor edges. It'll follow the side of the wall, and when it gets into a corner, yes, it is circular, but you've got side brushes which will take dirt and dust out of the very corner of a room, when it turns around there doing a 90 degree turn.
Carl:
Tell me about my paintwork - is this going to bump into all my skirting boards and cause damage to my house whilst I'm out, because no-one's there to keep an eye on him?
Clive:
No, it won't, because it's actually got sensors that come out of the front of the robot. When it senses a large object, when it's coming up towards it, it actually slows down.
Carl:
Sorry - it slows down?
Clive:
Yes, indeed, yes.
Carl:
Brilliant!
Clive:
You've got sensors coming out of the robot, basically measuring the room 67 times a second.
Carl:
And just a quick thing I've noticed as I've been watching this go around the floor, it actually has bumpers on the side, which are obviously switches to tell it where the edge of each area is, and also you've got little lights on the bottom to check where the stairs are, which I was quite impressed with, so we can actually put this upstairs, and not worry about it being found downstairs by the time you come home.
Clive:
No, that's absolutely correct. It's got two or three cliff sensors on the bottom of the robot, so it won't fall down the stairs.
Carl:
One last question - it is the big megabucks question, how much do I need to pay for one of these?
Clive:
Pricing for the product starts at £279 and goes up to £400.
Carl:
Yes, a very smooth product, and we're actually interested in doing some more on this soon.
Pete:
Something else we'd like to cover in a little bit more detail is that lovely headset that you had on. At one point, you were sat down in a chair, and a little headset was plonked on top of your head, and a thing hanging off your ear to earth you.
Our transcript continues here: Gadget Show Live 2011 Transcript Part 2
Handy Links:
Show 63, our coverage of the 2011 Gadget Show Live in Birmingham